Theme Cruises • Meet~n~Greets • Family Reunions • Graduations • Corporate Events
Whatever the occasion for your special cruise, have a Cruise Coin designed just for you.
Cruise Coins - A premium 2" die-struck brass coin featuring 3 levels of sculpted detail. These affordable high quality coins include the dates of your cruise, your unique ports of call and the name of the ship of your special cruise. Minimum Order Now Only 50 Coins!
Adding to the elegance, each coin is individually packaged in a custom velvet display box, allowing for the coin to be positioned horizontally or vertically.
This is the first time an original product such as Cruise Coins has ever been offered. Over time, T-shirts fade and cups are lost but these solid brass, 2" coins are strong and durable. Imagine owning a limited edition keepsake of your special cruise that you can enjoy for years and years to come. If you would like the opportunity to have your very own Cruise Coin designed for your unique cruise, contact your Event Coordinator.
Visit Our Virtual Design Gallery to see more samples.
Each Cruise Coin is custom designed to commemorate your cruise.
Your Cruise - Your Coin™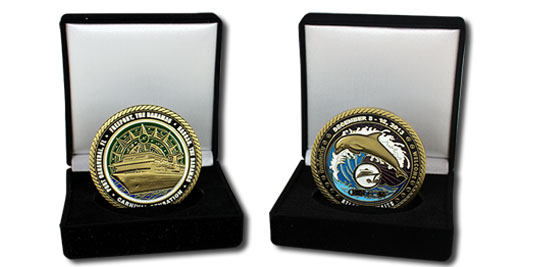 ---
"I'm really impressed with the size and quality of the coin..."
Ronnie W.
"Wish I had one from all the cruises I've been on..."
James J.

---